Humidity Control for Health
&

Comfort
Without the right equipment, balancing humidity levels throughout the whole home is nearly impossible. Too much or not enough in-home moisture can create a litany of problems for your health, comfort, furnishings, and your wallet. The ideal relative humidity level indoors should hover around 45%; anything under 30% is too dry and should be increased to avoid the common problems associated with dry indoor air.
The Moisture Pro works with your home's heating and cooling systems to monitor and add moisture to the air when necessary. Homeowners in Wisconsin benefit most from the Moisture Pro during the winter months when the air is naturally dryer.
Questions About Whole-Home Humidifiers
How much does whole-home humidifier installation cost?
Homeowners can expect to spend anywhere from $700-$900 to have a whole-home humidifier added to their home.  The price varies based on a few different factors:
1. Does the price include professional installation by a certified HVAC technician?
Since the Moisture Pro is directly added to your furnace and water supply, this is not something we recommend as a DIY or "I know a guy" project.  Bad or improper installation of any indoor air quality products can leave you with a litany of problems.  Pure Indoor Air products are exclusively installed by Capital Heating & Cooling in Menomonee Falls.
2. What size is the humidifier? 
Humidifiers are sized according to how much moisture it can put out in a given time.  Typically this is determined by the size of your home and level of insulation.   The Moisture Pro covers up to 4,200 square feet!
3. Is there a warranty?
The Moisture Pro comes with a 1 year warranty, both on the installation and the equipment itself.
Download our free guide about the Moisture pro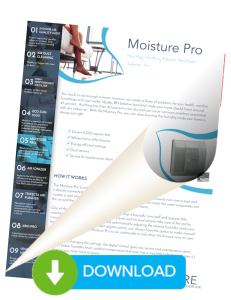 This free download includes all the information needed to make an informed decision about adding the Moisture Pro to your home. Choosing the right indoor air quality company makes the world of difference in the results you can expect to see.  From learning about the benefits of balanced moisture level in your home to how it works, this download will help you know what to expect from the Moisture Pro.
Learn more about important things like:
Energy efficient settings
Health benefits
Preserving home furnishings & structure
When the relative humidity in your home drops below 30%, it's hard not to notice the warning signs.
Your Health & Comfort are Compromised
When indoor air is too dry, asthma and allergy symptoms can worsen. Cold and flu viruses may spread more rapidly, and you may be more prone to sinus infections. Dry air pulls moisture from your skin, which makes you feel cold, and causes dry skin, chapped lips, and dry air passageways.
Allergies/Asthma
Colds/flu
Chapped lips
Dry, itchy skin
Feels colder
Climbing Energy Bills
Because dry indoor air feels cooler, many homeowners make the mistake of turning up the heat, when it's the humidity level that really needs to be increased. In fact, the Environmental Protection Agency estimates a 4% savings on heating bills for every degree lower you set your thermostat.
Damage to Home and Furnishings
Dry air is damaging to homes. Wood & other building materials, as well as furniture are robbed of moisture when the air is too dry. Cracks and damage can occur to flooring, trim, and even framing around windows and doors.
For more information , call (414) 296-6336, or submit the form to the right.
Headquarters
W134 N5368 Campbell Drive, Suite 101
Menomonee Falls, WI
53051
Hours of Operation
Monday through Friday:
8am to 5pm
Saturday and Sunday:
8am to 4pm