A Better Air Filter Means Healthier Indoor Air
Choosing an air filter really depends on the needs of the homeowner. For example, a standard air filter is designed to protect the furnace by preventing dust and debri from entering, but has little to no impact on the quality of air inside your home. For some homeowners this will do, but those of us blessed with allergies, asthma, and chronic colds require a stronger, High-Performance Air Filter.
The High-Performance Air Filter uses 32 square feet of electrically charged material to trap up to 99% of airborne contaminants. This is a game changer for people susceptible to illnesses, or looking for relief from allergy or asthma symptoms.
Will I save money if I change my air filter?
Yes, changing your air filter will reduce the amount of energy your furnace needs to move air.  The great part about a High-Performance Air Filter is that you get the benefits of a MERV 11 or 13 filter without the downfall of higher energy bills.  In fact, becausee High-Performance Air Filter is specifically designed for high capture efficiency with very low air restriction, it has no more air restriction than a MERV 8 filter, but removes 40% more dirt.
DOWNLOAD OUR FREE HIGH-PERFORMANCE AIR FILTER WHITEPAPER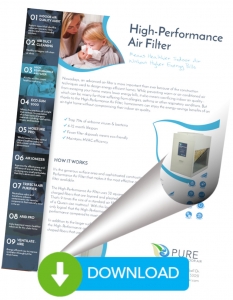 This free download includes all the information needed to make an informed decision about upgrading your furnace filter to a High-Performance Air Filter. Choosing the right furnace filter makes the world of difference in the results you can expect to see.  From allergy relief to lower energy bills, this download will help you decide if the High-Performance Air Filter is right for you.
Learn more about important things like:
How it Works
Benefits Compared to Standard Air Filter
What it Traps
MERV ratings
What Does the High-Performance Air Filter Trap?
Knowing the High-Performance Air Filter traps to 99% of contaminants as small as .3 micon (1/84,000 of an inch) begs the question of "what exactly does it trap?"
dust
pollen
mold spores
fungi
bacteria
mites and pet dander
cooking smoke and grease
tobacco smoke particles
Benefits of Upgrading Your Air Filter
Many homeowners upgrade their air filter for the health benefits, particularly relief from allergy and asthma symptoms. While most of the credit for a filter upgrade goes to health benefits, the benefit of less maintenance and lower energy bills should not be overlooked.
Regardless of the reason, you can't go wrong with upgrading to a High-Performance Air Filter because it can:
Lower energy bills
Reduce allergy/asthma symptoms
Chronic colds/flu
Minimize dust
Filter disposals means more eco-friendly
Extend life of HVAC equipment
Improve efficiency of Air Ionizer
Proudly serving Wisconsin with products made exclusively in the United States.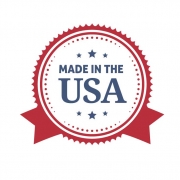 Headquarters
W134 N5368 Campbell Drive, Suite 101
Menomonee Falls, WI
53051
Hours of Operation
Monday through Friday:
8am to 5pm
Saturday and Sunday:
8am to 4pm