Improves the Performance of Any Air Filter
Air filters alone, even the high quality ones such as the High-Performance Air Filter, cannot trap 100% of the allergens, viruses, bacteria, and dust circulating throughout your home. The Air Ionizer improves the effectiveness and efficiency of any air filter by clustering the microscopic particulates that would otherwise pass through the filter.
Clustering occurs when positively and negatively charged ions break don the molecular components of contaminated air. The electrically charged ions neutralize common odors and harmful chemicals. They also destroy viruses and airborne bacteria throughout your home.
Download our free Air Ionizer Whitepaper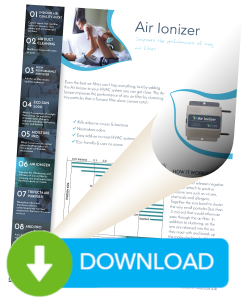 This free download includes all the information needed to make an informed decision about adding the Air Ionizer to your home. Choosing the right indoor air quality products make a world of difference in the results you can expect to see.  From how it works to what it can trap, this download will help you learn why adding the Air Ionizer to your home can improve the performance of your air filter.
Learn more about important things like:
How it Works
Health & Odor Benefits
Air Filter Improvement
In addition to our informational whitepaper, watch our Air Ionizer video for a more details.
Eco-Friendly Way to Neutralize Odors
&

Kill Viruses
The Air Ionizer neutralizes odors, kills microbes, and captures up to three times more contaminants, as compared to other ionizers. The best part is, it uses no ozone to accomplish this; so, homeowner's can rest assured they're improving the quality of their indoor air, without harming the environment.
Benefits of the Air Ionizer
In addition to being ozone-free, the Air Ionizer provides neutralizes odors and provides relief from a variety of health issues ranging from respiratory issues to physiologic effects.
Hay fever/allergies
Asthma
Seasonal Affective Disorder (SAD)
Reduced blood pressure
Odors
Call (414) 296-6336 or submit the form to the right for more information.
Headquarters
W134 N5368 Campbell Drive, Suite 101
Menomonee Falls, WI
53051
Hours of Operation
Monday through Friday:
8am to 5pm
Saturday and Sunday:
8am to 4pm