AC + UV Light means healthier indoor air
While air conditioning is the key to our comfort during Wisconsin's hot, humid summers, the condensation that builds up during the natural cooling process can create a thin, slimy bio-film that adheres to the AC coil and adjacent surfaces. When this happens, the air that passes over the coil to be cooled becomes contaminated with mold spores, viruses, and bacteria. And as your HVAC system circulates the air throughout your home, the contaminants come along with it. The musty odors, frequent colds, and rising energy bills are some of the most common issues solved with the Eco-Sun 2000.
Can UV Light Eco-Sun 2000 Kill Viruses?
Yes, UV light can kill airborne viruses, bacteria and prevent the spread of infectious diseases such as influenza.  The high frequency of UV light scrambles and damages the nuclear material of viruses. When it damages the DNA (or RNA) code of these pathogens, it also triggers lethal mutations that prevent them from reproducing properly.
Can UV Light Kill Corona Virus?
The million-dollar question we all want answered: can UV lights destroy Covid-19?  Experts say it's too soon to know if UV light could kill this particular virus but that it is effective against other viruses like the flu.
Download our free Eco-Sun 2000 whitepaper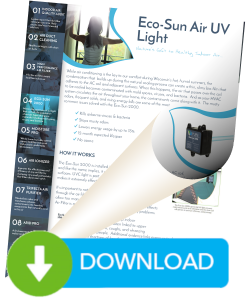 This free download includes all the information needed to make an informed decision about adding the Eco-Sun 2000 to your air conditioning system.  Choosing the right indoor air quality company makes the world of difference in the results you can expect to see.  From learning about the AC coil to health and energy efficiency benefits, this download will help you know what to expect from the Eco-Sun 2000
Learn more about important things like:
Ultraviolet Light
How it Works
Viruses, Odors & Mildew Prevention
In addition to our informational whitepaper, watch our Eco-Sun 2000 video to learn more.
Benefits of Adding The Eco-Sun 2000 to Your HVAC System
By preventing mold, bacteria, and viruses from growing inside your cooling system and duct work, you're ultimately preventing it from being circulated throughout your home. Thereby making the Eco-Sun 2000 the ideal solution to:
Stop musty odors
Kill bacteria & viruses
Prevent mold
Preserve HVAC equipment
Lower energy use by up to 35%
Reduce allergens & asthma triggers
For more information, download our whitepaper, call (414) 296-6336, or submit the form to the right.
Headquarters
W134 N5368 Campbell Drive, Suite 101
Menomonee Falls, WI
53051
Hours of Operation
Monday through Friday:
8am to 5pm
Saturday and Sunday:
8am to 4pm